when margaritas and pizza turn into something fabulous…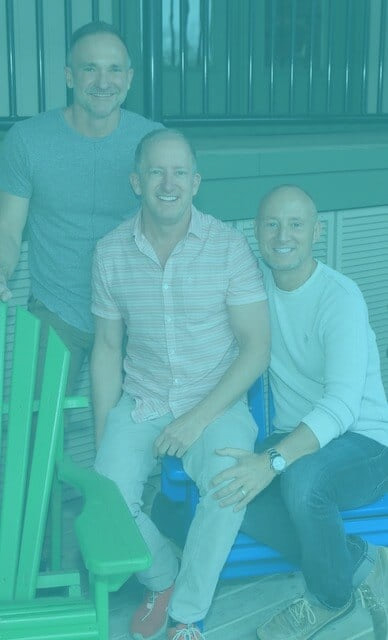 The Faces of The Dunes
You may not know this, but The Dunes Resort we all know and love today wasn't always this way! Friends Danny Esterline and Greg Tryzbinski started visiting what was then called The Douglas Dunes back in 1981 and frequented the bar over the years. They met their now-business partner, Mike Jones, at The Douglas Dunes in 1996 and quickly became friends. Over the years of friendship, spending days and nights at The Dunes, a life-changing idea eventually came to be.
Fast-forward to 1998 after a long day of moving. Danny, Greg and Mike rewarded themselves by unwinding with some much-needed pizza and margaritas. A few margaritas in, they began to dream up a place we all craved: somewhere that gay and lesbian folks could go to let loose, have fun and just be themselves. And they knew exactly the place this could be! It was this setting, this day in 1998 when partners Mike, Danny and Greg decided a to buy a gay bar.
The next day, idea in mind but with no plan on paper (and amazingly hangover free), the three amigos called their friend, and realtor, Lynda Holmes who began moving their idea towards realization. The rest of their lives were about to change, as was the gay scene in the Midwest.
Nine months later, on May 26, 1999, the trio took ownership of The Douglas Dunes, renaming it The Dunes Resort and now best known as simply "The Dunes."
Through hard work and an unwavering dedication to providing the best in service, hospitality, and perpetuating a gay safe-haven, The Dunes Resort has become one of the largest LGBTQ resorts and entertainment complexes in the Midwest.
"This is the hottest spot around for some delicious drinks, pounding dance music, and amazing staff and new faces! Come by to meet some people and spend a fun weekend in their amazing rooms! There are events every weekend, and you won't want to miss out!"
Our space wouldn't be possible without our amazing team, check out some of the faces behind The Dunes below.