It Started as a wild idea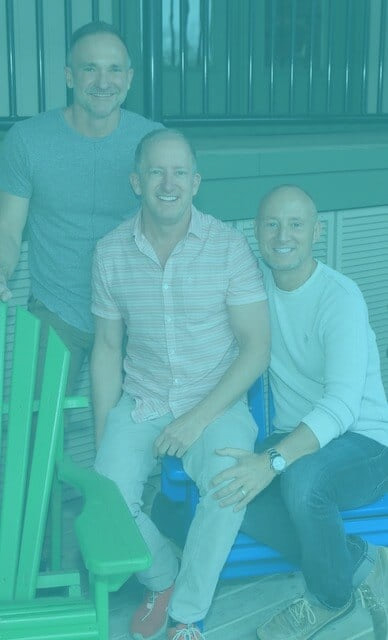 A Long Time Coming
Back in 1981, the Dunes was a gay resort called The Douglas Dunes. It was a place where everyone could come to be themselves, no matter what their gender or sexuality was. Guests would come to town, love the place, and decide to stick around. And it just so happened that three very special men were frequent visitors.
Friends Danny Esterline and Greg Tryzbinski started visiting back in 1981 and eventually met their would-be business partner, Mike Jones, in 1996. It was here that they kicked it off and enjoyed the original hotel, restaurant, and lobby bar with summer-only outside dancing. They loved The Dunes and what it did for the community by providing an LGBTQ+ oasis in West Michigan.
Inspiration When You Least Expect It
"Maybe you shouldn't eat pizza, drink margaritas and try to plan your life, but you just never know what's going to happen."
One day in 1998, the three friends had just finished moving and were treating themselves to pizza and margaritas when they had an amazing idea. They were going to buy a gay bar.
We like to think good things happen when you combine friends, a brilliant idea and a little booze (or more than a little). At least, that was the case for The Dunes! After some more deliberation, the three decided to buy their favorite hangout, The Douglas Dunes, and continue to fill it with love so it could blossom into what it is today.
The Dunes' Transformation
"People from all walks of life come here to find themselves, lose themselves, but most importantly, to be themselves."
Since purchasing the Dunes in 1999, Danny, Greg, and Mike have all worked hard to turn it into the largest LGBTQ+ resort in the Midwest and one of the largest in the country. Here, you'll find an inviting environment for all, where we encourage you to really be yourself. We attract top talent from across the country, and our events, venues, and rooms are all designed for you to make amazing memories.
Stop by and see old friends or branch out to meet a few new ones. Whatever you're looking for, you can find it at the Dunes.
"This is the hottest spot around for some delicious drinks, pounding dance music, and amazing staff and new faces! Come by to meet some people and spend a fun weekend in their amazing rooms! There are events every weekend, and you won't want to miss out!"
Our space wouldn't be possible without our amazing team, check out some of the faces behind The Dunes below.